BUSINESS, BRANDING & SOCIAL MEDIA WORKSHOP: FALL 2019 SESSION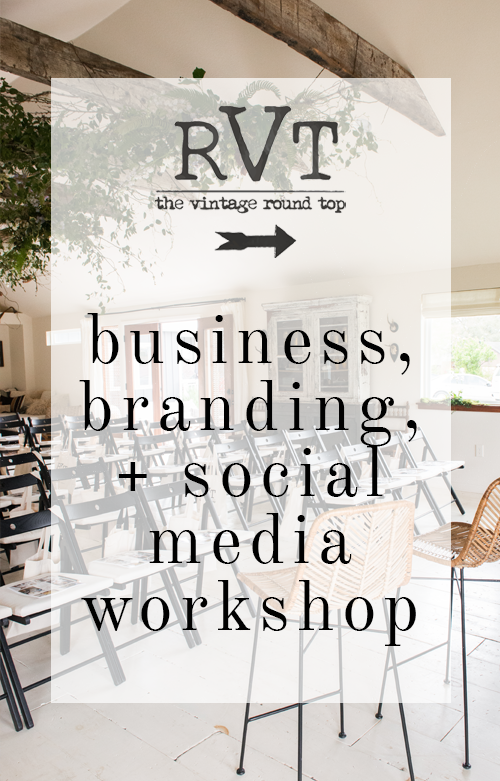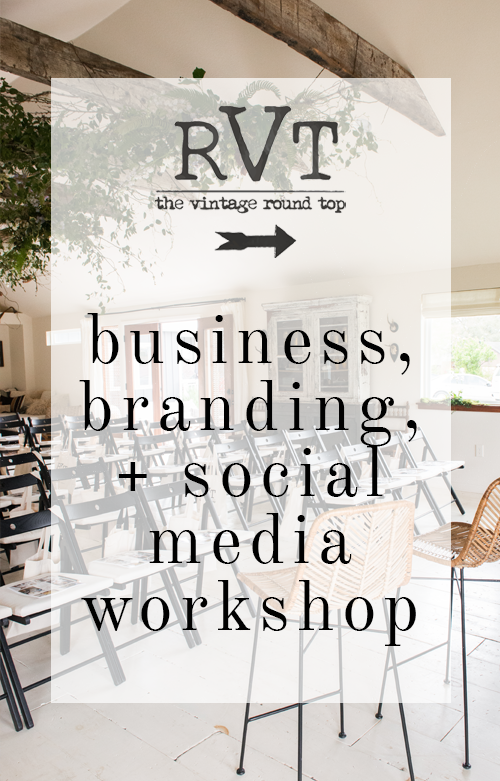 BUSINESS, BRANDING & SOCIAL MEDIA WORKSHOP: FALL 2019 SESSION
The Vintage Round Top is pleased to announce the latest event in our Business Branding and Social Media Workshop series!
Join Paige and Smoot, co-founders of The Vintage Round Top, on Sunday, September 29th, 2019 for a day of moderated panel discussions alongside panelists Annie Sloan (Annie Sloan), Rachel Hardage Barrett (Editor-in-Chief of Country Living), Courtney Allison ( French Country Cottage), and Julia Duke (Principal & Owner at public relations and marketing firm Susan Becher & Associates).
Hear inspirational stories, learn practical and actionable tips, network with other creatives and entrepreneurs, and gain a deeper understanding of how to create strong digital and social media content that will build your small-business or personal brand.
Watch the RVT Workshop Series Video or read out our previous workshops here and here to learn more.
Featured Panelists:
What To Expect:
Paige and Smoot will moderate panel discussions on topics like small-business branding, content creation, and pitching to publications. In addition to joining our panel discussions, Annie Sloan will also be leading a decorative painting demonstration!
PLUS
Recognize the steps to building a great brand and why "just start" is the most important step in the entire process

Advice on how to connect with influencers in your industry and how to cross-promote your brands

Collaborative discussions with the panelists, including plenty of Q&A time

Walk away with a Resource Guide and actionable tips on marketing strategies for small businesses
Past panelists have included:
Details:
What: RVT Business, Branding, and Social Media Workshop
When: Sunday, September 29th, 2019, 9:00 am - 4:00pm
Who: Small business owners, bloggers, entrepreneurs, marketing/sales employees, and anyone else interested in these topics!
Where: The Vintage Round Top, 1450 N. Hwy 237 Round Top, Texas 78954
Breakfast and lunch are included with the price, as well as a swag bag full of great gifts!
Please view our ticket refund policy here.